May 29, 2015
After completing her PhD in 2006, Frances Flower joined the Whole Foods Market team managing the day-to-day operations of their animal welfare program.
Posted in News & Events, Slideshow, Stakeholder Views of Animal Use | Tagged with alumni, phd, whole foods
February 23, 2014
Sara Dubois recently completed her PhD with UBC's Animal Welfare Program and has now been appointed as the BC SPCA's first Chief Scientific Officer. The BC SPCA is the first animal welfare organization in Canada to establish such a position.
Posted in News & Events, Slideshow, Wildlife-human Interactions | Tagged with alumni, graduate, phd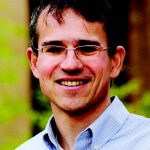 December 31, 2010
Perhaps the greatest legacy of the Animal Welfare Program is the many graduates who have gone on to influential positions where they promote the welfare of animals in business, education, government and the animal protection movement. Some stellar examples: Lorna Baird (MSc 2004) is now in Calgary as Executive Director of Alberta Farm Animal Care, […]
Posted in 2010, Year in Review | Tagged with alumni